| | | |
| --- | --- | --- |
| We owe much of our knowledge of North American barn architecture to several fine authors. However, the great and varied topic of North American barns actually had a poor press until the mid 1950's. It was in 1954 that the famed painter of early Americana Eric Sloane wrote the first book on barns that ever appeared on the continent — American Barns and Covered Bridges. Later in 1966 his classic book was published – An Age of Barns where he discussed a wide diversity of barn types. It could be said that Sloane was the first to put barns on the proverbial map. To him we owe a great debt of gratitude to both his pioneering spirit and enthusiasm. He among the other authors listed here is considered thee pioneer barn author. Greg Huber met Eric Sloane perhaps a dozen times. | | Eric Sloane |

Pennsylvania itself produced four barn historians and they are found in the names of – Alfred Shoemaker, John Heyl, Joseph Glass and Robert Ensminger — all native Pennsylvanians. Each man has made a significant contribution to the knowledge of barns of Pennsylvania and each man's work is distinguished from the other.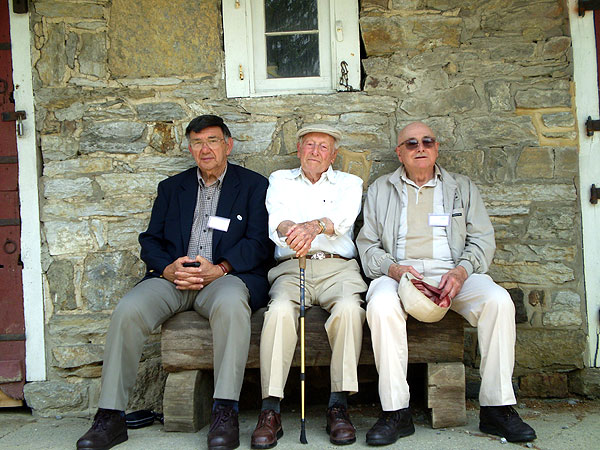 Barn authors (from L to R) Joseph Glass, John Heyl, and Robert Ensminger



Alfred Shoemaker was the editor of the first book exclusively devoted to barns in Pennsylvania. Among four other authors, Shoemaker himself contributed twelve articles to this initial effort that appeared in 1955.

John Heyl was born in April 1906 just eight days after the earthquake that shook San Francisco. He is in excellent health. John along with architect Charles Dornbusch in 1958 wrote the book Pennsylvania German Barns. This book was the first attempt at the delineation of barn types by construction means. Greg Huber first met John Heyl in October of 1992.

Joseph Glass from Millersville in Lancaster County wrote his PHD dissertation in 1969 called "The Pennsylvania Culture Region – A Geographic Interpretation of Barns and Farmhouses." Later in 1986 the basic material was transformed into a book called The PA Culture Region – A View from the Barn. After Heyl and Dornbusch's book it was the first true scholarly attempt in book length form. Greg Huber first met Joseph Glass in July 1992. Joseph was born in 1930.

Robert Ensminger wrote his classic book in 1992 — The Pennsylvania Barn – Its Origin, Evolution and Distribution in North America. The greatest contribution in this book consists of three things. First — tracing the European connection or origin to eastern Switzerland – principally in Pratigau. Second — a classification of the Pennsylvania barn was created. Three classes of barns were recognized along with almost two dozen types. Third — the distribution of the barn type which extended far beyond the boundaries of Pennsylvania. His work has had the greatest influence in affecting EBC's work on the barns of Pennsylvania. Greg Huber first met Robert Ensminger in July 1976. They have maintained a close personal friendship in the past twenty years. Bob was born in 1927.

Henry Glassie, the great folklore scholar researched and wrote treatises on barns in the early to mid 1960's and he contributed a solid base of knowledge of American barns especially those originating from Pennsylvania. Other work he did was published in a long article often considered a classic — Barn Building in Otsego County, New York that included a windshield survey of nearly 2,200 barns. Greg Huber first met Henry Glassie in January 1978. In February 2002 he conducted a three hour personal interview of Henry at State College, PA. Henry was born in 1941.

John Fitchen was another early contributor to the awareness of barns and his classic work – The New World Dutch Barn appeared in 1968. This was the first genuine attempt by a trained architect to delineate the major structural characteristics of a major North American barn type that was erected in eastern New York and the northern half of New Jersey. With the examination of more than 600 barns Greg Huber later expanded upon his work in the 1975 to 2005 time frame. In 2001 he did an in-depth expansion and editing of the second edition of his book. Greg met John Fitchen the first and only time in September 1978 at his home in Hamilton, New York. He spoke to John a few times on the phone. John died in 1990.

Eric Arthur and Dudley Witney, two Canadian based authors in 1972 produced their classic half scholarly-half coffee table book The Barn — A Vanishing Landmark in North America. It is replete with illustrations of early and later built barns throughout much of the continent. This book may well have been an important stimulus for a number of books that came out after about 1975. Most of them are not scholarly treatises. Greg Huber first met Dudley Witney in May 2001. Dudley was born in May 1926

The 1975 to 2009 era has seen literally dozens of books appear before the consuming public. Almost all of the authors of the books have not been trained – albeit by means of their own disciplined studies or lack there-of – the fine constructions points of the barns they present in their books.