Greg Huber Offers Public Lectures
Over a period of nearly 35 years Greg Huber of Eastern Barn Consultants has presented innumerable lectures on the natural environment and early rural barn and house architecture. Specific topics among many dozens have run the gamut from forest ecology and field identification of trees to various barn types that include those of Holland Dutch style in upstate New York to the early type ground barns of southeast Pennsylvania among other types. These public lectures have had in general excellent attendance from a few dozen to as many as 400 attendees.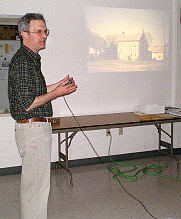 Greg Huber discussing the fine points of architectural style.